To sum it up in one word... It was fan-freakin'tastic! =D
Many thanks to you Craig, for letting me stay in your room and providing me with shelter n.n
I'm really thankful, and will have to meet you one day to give your sketchbook back to you =)
All the my Vancouverite friends, you guys know who you are. Thanks for playing a part in making this Hamsterwuff's first-ever furcon a great one! =3
Yep, I arrived at the con late since I lost my way in Seattle, not knowing where to go, and it took me 2+ hours to get from the Amtrak station down to the Seatac Marriott Hotel. In the end, I was only able to make it to the con on its 2nd day.
I joined a couple of my friends in their room, took a walk around the hotel, and then went to clean up and then straight to bed (floor) XD
The sun wasup not much later, and after a bit of a heart-to-heart exchange with a couple of my close friends there, I ran around the con with a friends' Tarantula Plushie atop of my head, and was basically known as the guy with a 'headcrab'' or 'Tarantula on the head'.
Many thought it was cute, but some freaked out XD
During my rampage, I managed to run into many of my friends, amongst other folks X3
Later in the evening, finally managed to catch up with 2 Gryphon, and talked about some relatively sensitive stuff, but was glad to be able to do so. Mouth is sealed though, so, sorry guys =3
Glad to have caught up with you guys, though some only really, really briefly XD
BTW Rat! I still need to return you your sketchbook too. Reaaally sorry about that n.n;;;
Also, many thanks go out to:
http://www.furaffinity.net/user/shiuk/
Glad to have met you. Thanks for the trade too! You're one great guy to be around with!
There sure was a lot of pics on your prints not here on FA, and they're very well drawn too, as expected =D
This is Shiuk's half of the trade:
http://www.furaffinity.net/view/2817866
=3
http://www.furaffinity.net/user/chestnuts
Was completely surprised you were there, totally didn't expect that. Not confused as to why you don't remember me though, its been a good 4 years since we last chat (remembered the years now).

http://www.furaffinity.net/user/shizuki
So glad to have met you! =D
The dealer's room was sure packed, and guess you got swamped with commissions during the later parts of the day and evening. Glad you like the sketch I did of Shizuki too! One thing to note is that you're one really fast artist! =D

http://www.furaffinity.net/user/hornetv2
Glad to have met your acquaintance! =D
Your bubbliness sure made this tired wuff pull through as much as he could during that very late artjam XD
thanks for the trade too!
Sorry I couldn't join you for the ice-cream, was running low on funds. Hopefully we'd be able to meet again sometime in the future =3
This is Hornet's half of the trade with me:
http://www.furaffinity.net/view/2817824
http://www.furaffinity.net/user/seylyn
You crazy AZN girl you XD
It was awesome to have met you, and many, MANY thanks for the surprise gift conbadge. Zeph never looked soooooo good before XD
Gotta come up with something for you, one way or the other.
I also envy the energy you exhude. Despite being tired during the later half of our ArtJam, you were so lively and cheerful that it kept me drawing still X3
Hope to be able to run into you sometime in the future before I go back to Singapore n.n
Seylyn's badge of Zeph: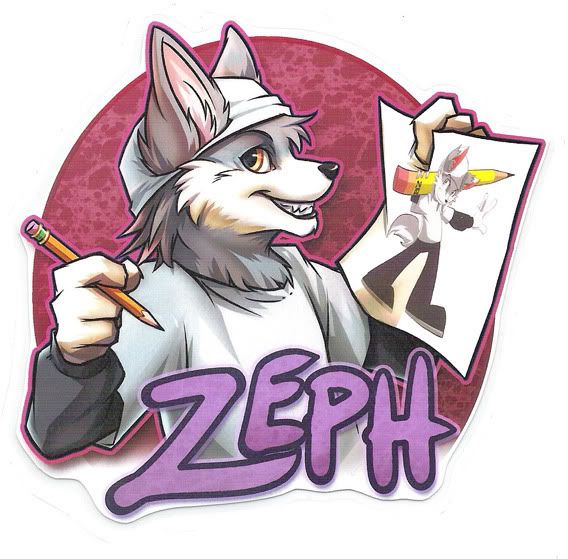 And finally:
http://www.furaffinity.net/user/flameydramon
I'm glad to have met you at the end of everything. Your down to earthness and calmness was the perfect way for me to have ended the trip down to Seattle.
Hope you liked the doodle I did of your character, it was the least I can do.
Watching you leave though... was probably the hardest thing for me to do back there, was desperately holding my tears back back then n.n;
Hopefully, I'd be able to meet you for at least one more time before I go back to Singapore. Miss you very much.
That basically sums about everything up I guess.
-----
PS: On my way back to Vancouver, a car's engine compartment exploded on the highway. Quite a sight to behold, although not a very good one at all.
Guess that's that for now.
Till next time n.n